Shipping Gifts This Year?
Mookie has the perfect gift for everyone on your list.

Have a big list? Just email us your address list and we'll ship it all. Done!

Everyone LOVES Kettle Korn and no one forgets a gift from Mookie's!

Delivery Issues? YES!!

All carriers have raised shipping prices considerably and discontinued their on time guarantees. But please, DON'T SHOOT THE MESSENGER! Most packages are delivered close to the estimated day but please plan on delays. Especially closer to the holiday.

Will Mookie Raise Prices? NO!!

Mookie will absorb the rising shipping costs. We plan to continue free shipping and hold current prices thru Christmas. Our gift to you!!

 

---
Need gifts for YOUR staff working at home?
Watch this video – Mookie makes it look easy!


Why is Mookie's the best?
For almost two decades we've heard our customers say Mookie's taste better than any other kettle corn. Why? Because we use premium popcorn that pops up big and round, like gum balls!  Four simple ingredients are mixed in the perfect proportion to create our unique signature flavor. Ask anybody. If it's not Mookie's — Why Bother!?!
---

Mookie does lots of events each year in Florida and several each summer in the North Carolina mountains. So you can always find us somewhere.
Check out our upcoming events. We hope to see you soon!
---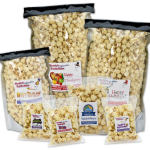 Mookie's offers a variety of kettle corn packages for your business or for your friends and family. Our tuxedo gift packages are perfect for birthdays and special occasions and make great client gifts or thank you packages. Our snack packs are fun for party favors and corporate give aways and all our gifts come with a FREE custom label with your logo and personal message. And FREE shipping or delivery on every order. Who does that?!?
Get Mookie's for your next occasion and make your party PoP!

Who's in Mookie's video?!?  
It might be you!
Mookie's Testimonials
Happy customers of Mookie's Kettle Korn share their reasons why "Mookie's is the Best!"
Having fun at Dunedin Art Harvest. See anyone you know?!?
Mookie shares clips from many satisfied customers at a local art festival.
What people say about the "Other Guy".
Why did Safety Harbor hire the other guy with "soggy nuts"?!? Well, he didn't last long.
The Famous Kettle Korn Song!
Local Band sings Mookie's praises at a local farmers market!
---
More testimonials:
"We are so looking forward to working with you this year – when we said last night at the back to school night that we would be selling Mookie's again the kids were so thrilled….Mookie's sells itself!!"

 

Amy Hartigan, Countryside High School