Description
Mookie's Snack Packs make great gifts or give-aways for any occasion. Our mini snack pack is about 2 cups of delicious kettle corn and the larger snack pack is about 4 cups. Personalize your packages with your logo and custom message at no extra charge. The perfect size for a little something special. Use them at your next event for: Corporate Gifts, "Pop In" Gifts, Party Favors, Thank You Packages or Referral Gifts. Nothing opens doors like Mookie's Kettle Korn. And our quantity discounts makes this package affordable at any level.
FREE Personalized Label
Add a FREE personalized label for that special touch. Email your logo or artwork and personal message and we'll work up a sample and send you a proof to approve. Need help with your label design? No problem! Just give us your idea, theme, colors and we'll make up the perfect label — FREE OF CHARGE. Who does that?!? Send us an email with your label idea and we'll do the rest: Orders@MookiesKK.com
Quantity Discounts
| | |
| --- | --- |
| 250+ | Save 5% |
| 500+ | Save 10% |
| 1000+ | Save 15% |
| 5000+ | Save 20% |
How Big are Mookie's Snack Packs?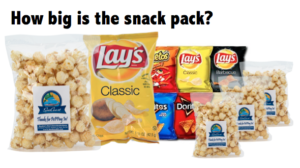 Our 4 cup snack pack is about the same size as a lunch size bag of potato chips. Our mini snack pack is about the size of chips you get in a variety pack. The only difference is our snack packs are filled all the way to top and the clear bag proves it! You'll never see potato chips packaged in a clear bag.
If it's not Mookie's – why bother?!?
Always Fresh and Delicious
Mookie's Kettle Korn is popped and shipped the same day so it's always delivered fresh and delicious. But Mookie does not use artificial preservatives so our popcorn is intended to be consumed upon arrival. It will stay fresh for 2-3 weeks but if you intend to keep it longer just pop it in the freezer.