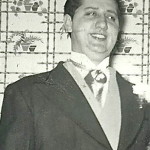 In the spirit of Father's Day I'd like to honor my own Dad with a rant because my Dad was a champion ranter (it's true about the apple and the tree). If you've read my previous rants about telemarketers and dealing with calls to companies like Verizon, my mannerisms are much like my Father's. I remember my dad trying to get through to a company and he kept getting a busy signal — remember busy signals? I can see him standing by the rotary phone on the wall in a rage and DIALING the number over and over then slamming the phone down and getting madder every time he redialed. Those old phones could really take a beating. But they had to – they were built strong and lasted forever. In fact, years later, after my father passed and my mother was downsizing, we called to cancel the phone number we had for over 23 years and realized that we had been paying $1.95/month to lease that old rotary phone from Ma Bell. I'll do the math – 2 phones for 23 years is a whopping $1,076.40!! I think I was the one that made the call to Ma Bell and screamed in my Father's footsteps.
But with the bad comes the good. My father was a hard working man and instilled in me those same qualities. He was a successful entraprenuer who wasn't afraid to try new things. Again I walk in his shoes. When I was in my 20s, I was sick of working in an office so I started Frani's Fast Food Alternative. I lived across the street from a business complex so I got licensed and turned my condo into a commerical kitchen and walked across the street with a big basketful of goodies and knocked on doors. I offered bagels and muffins in the morning and soups and sandwiches in the afternoon. Then I went home and started cooking for the next day. I made good money but I was working way too hard so after the first snowfall that business folded. Other businesses included Marketing Matters, Monthly Mingles, A Wonderful Coffee Company, and now Mookie's Kettle Korn (I finally found one that stuck).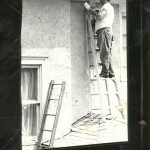 I often complain about working 7 days/week during our busy season and I remember that my father worked hard at his business but he had weekends off. Then I remembered that he built us a vacation home in the Poconos mountains from scratch and worked every weekend on it. It was kinda a lifelong project because I remember hammering nails as a kid and he would yell, "You're choking the hammer!" First of all, I was 6. Second of all, he never explained what that was. In fact, I still don't completely understand what "choking a hammer" means but luckily my current business doesn't require a hammer.
Even though he didn't teach me the details of his business, he instilled in me an entrepreneural spirit that can't be taught. And I think he'd be pretty proud of how I filled out his shoes.
Happy Father's Day to all the dads out there who work hard to instill greatness in their children. It may not feel like your lessons are sinking in – but later on you'll realized they did!