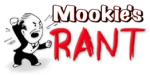 This month, let's hear from Mookie for a change. Typically nothing riles Mookie but blaring Christmas music for 6 straight weeks sends him into a Fran-like rage. And the guilt that's imposed upon us in every commercial to buy people we don't like, things they don't need, with money we don't have so that everyone has a "Hap-py Holiday" (read in a very sarcastic tone) is despicable. Ads used to be fun jingles that you remember for years and years like the Armour hot dogs commercial. But now they're psychologically engineered to make us feel if we don't use their product there's something wrong with us. And the guilt ridden holiday commercials are the worst offenders.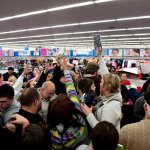 This year, the fact that every day is Black Friday is making Mookie crazy. He went to Sam's Club at 7:00 am and it was a mad house. And Sam's Club usually only allows business members in the store before 10:00 am. So he asked one of the workers what was going on and she flipped out. "What do you mean what's going on? It's Black Friday!!" Well, not only was it Saturday but it was the Saturday BEFORE Thanksgiving. And she acted like he was the crazy one.
Thanksgiving is now just a few hours long in the midst of this 6 week guilted shopping excursion. One person is commandeered to cook the turkey or now you can order a full meal from your local restaurant and join the rest of the brood who scours the ads and stretegically plans their attack. Apparently there ARE great deals to be had. Walmart's Black Friday was on Thanksgiving day (which is a Thursday) and our neighbor bought a 55″ TV for $200. If they can sell TVs at that price what do they really cost? And why do they charge us double and triple that price every other day of the year?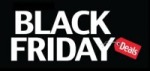 Mookie thinks Black Friday will never really end. He just got an email that said "Black Friday ends tomorrow." But tomorrow never comes so maybe Black Friday is just the new term for the 6 week holiday sale where they bombard us with the same 6 holiday songs that get in our brain and make us crazy. You know the ones: Santa Baby, Frosty the Snowman and the one that really confuses Mookie. It goes like this, "I say 'are you married' you say 'no ma'am' but you can do the job while you're in town." What job?!?
Mookie's solution to the holiday madness is to turn OFF the TV so we don't hear any of the guilt ads and when he's forced to go to Walmart or Sam's Club for popcorn supplies he'll be the one with the big noise canceling headphones listening to Led Zepplin to drown out the reindeers. One year we tried to change all the words to the popular carols and make them funny and a little dirty and I still sing those lyrics in my head but this is a public forum so I can't share them here.
Don't get me wrong, Mookie loves the holidays. He enjoys all the parties and get togethers. But we have it easy because everyone on our list gets popcorn.
So, for those of you who can't avoid shopping this Christmas here's something affordable for everyone on your list. Something that everyone LOVES and remembers. Mookie's Kettle Korn of course! In personalized packages. You can now order online with volume discounts and FREE shipping so when you go visiting you'll never be empty handed. No lines. No waiting. No Christmas music. No guilt.