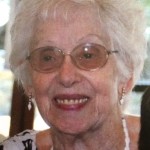 My mother passed away last month from a massive stroke. She was 86 and led a long and full life. She was the matriarch of our very large Italian family and it was very difficult but we prepared a beautiful service and tried to convey what a simple, wonderful, caring woman she was which was confirmed by everyone who spoke about her and the consensus was — we should all be more like my mom if we want kind words spoken at our funerals.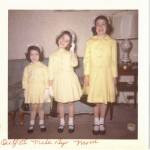 If you ever met my mother it was probably in her kitchen or somewhere around incredible food. She'd remember you by your favorite food and try to make that food next time she saw you. She was an accomplished seamstress and made matching outfits for us when we were kids (which we hated at the time). She was a true friend and many people confided in her and if you told my mother something in confidence she literally took that to her grave. She was simple and it was often hard to find a gift for her because she wasn't thrilled by material things. She was happier with a gathering of her friends and family and of course good food. We took this to the limit on her birthdays.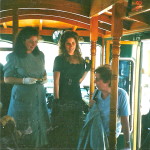 One year, Mookie asked her what was her favorite time of life and she told him it was her high school years. So that year we rented a Fairmount City Trolley and rounded up all her high school friends and took them on a trip down memory lane. As we drove through the dingy streets of South Philadelphia their colorful stories of what "used to be there" brought life and animation to a corner where today stands a CVS.
I'd like to be more like my mom but I don't cook or bake, I only do straight sewing like table cloths and tent covers, and I certainly don't know or care what your favorite food is (although I always assume it's kettle corn). I'm certainly more like my Sicilian dad who was sarcastic, short tempered and hot-headed. And with that in mind, let's get on to Fran's Rant.
Funerals
This was the first funeral where I was involved in the planning and I'm shocked and amazed that we could get that much accomplished in such a short time. Especially after spending five sleep deprived days in the hospital. When you think about, it's the same format as planning a wedding which takes 6-12 months but you have to get it all done in 2.5 days. Write the obituary, plan the service, find a church, meet with the priest, plan the music, the readings, the pall bearers, prepare a program, go to the florist. And then the personal stuff – find a dress, shoes, suits for the kids, hair, makeup, nails. And we did all this in-between a constant stream of visitors. And most of the hard work was done ahead of time. My mother, in her infinite wisdom, pre-planned and paid for her own funeral expenses because she knew we had enough things to fight about. We thought she was crazy at the time but yet another tribute to how selfless she was.
And how many times do you hear the phrase "if there's anything I can do…"  I know those words are heart felt and sincere but can we change it to something more concrete like:
I'm going grocery shopping – what can I pickup for you?
Can I come over and help straighten your house before people descend on it?
Do you need any laundry done? Bathrooms scrubbed?
Can I help with your hair, clothes, makeup, nails?
Can I drive your kids to soccer?
Can I take that baby off your hands?
Or simply SEND FOOD.
Of course that last suggestion was fully covered. Our house was filled with Philly favorites like Primo Hoagies, soft pretzels and Viso's Cannoli's. And a big sincere thanks to the countless people who sent complete meals of fabulous food in the middle of their own hectic lives. I'm never in a position to cook a complete meal and I was always apprehensive to send our popcorn when someone dies because I equate our popcorn with fun, happy events but it's perfectly acceptable and genuinely appreciated so we recently added a Sympathy Label. (Insert shameless promotion here!)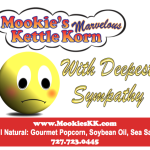 Ok, back to the rant. By the day of the funeral, emotions were high and tempers were flying. Especially for the priest who was adamant about starting the service ON TIME. Me, being the heathen in the room, was trying to keep peace between the Catholics and the non-denominational Christians. But we had planned a few non-Catholic portions of the service which HAD to be done BEFORE the service. So the several hundred people who tried to attend the viewing were cutoff when Father Congeniality started stomping around the church yelling at everyone to get started. All in all, I thought the service was a tasteful mix of my mom's wishes with the addition of my brother's heartfelt eulogy and my sister's incredibly moving liturgical dance. And I held my breath during the sermon because I thought for sure a Holy War would ensue but by then the priest was amazingly calm and warm and delivered a beautiful message.
It was a stunningly beautiful day at the cemetery, the luncheon was big and beautiful and wonderful. The slideshow of pictures that my other sister worked on for days was slightly botched by technology issues but it all worked out in the end.
Then the aftermath. A mountain of paperwork. Stopping payments on all automatic deductions. Sorting through bills, and mail, and cards, and appointments. Trying to remember if we told everyone my mother knew and then going through her address book to find several people we missed. And then trying to write thank you notes and remembering everyone who helped us. It's not like you have an invitation list to go by. It's everyone you've ever known in your whole entire life!
As hard as it was to pull this thing off in a few days, I think that anyone planning a wedding should take part in planning a funeral and adopt a few ideas on simplicity. Find a pretty dress, book a big room or someone's backyard for all your friends and family to gather. And instead of renting a horse driven carriage or releasing doves – release the hounds and enjoy your time together!
In the end I was very proud of myself for keeping a lid on my temper without the use of duct tape — until the ride home. I had slept on sofas and sofa beds for almost 3 weeks and my back was killing me so I was looking forward to the drive home and stopping at a Hampton Inn halfway home to sleep in a big warm comfortable bed. But that didn't happen. The first room they gave me had so much air freshener you could taste it and it was covering up a disgusting crusty old man smell. I asked for a different room but it had even more air freshener. You couldn't even smell what they were trying to cover up. But I was exhausted and it was too late to drive any further so I blasted the AC in hopes of dispersing the smell and tried to sleep but it was too cold and too pungent. After a few hours and hardly any sleep I got up to take a shower but here was NO water pressure – just a trickle. So, shampoo, rinse and repeat took me 20 minutes. When I complained with my bloodshot eyes and frazzled nerves, the big woman at the front desk offered me a HUG! I yelled: "I don't need a hug — I need sleep!!!" Then I stopped at Panera Bread for breakfast and as I stood in line with a few people behind me, a little old man with thick thick glasses wandered in and stood beside me. Then he inched his way toward the counter. When the server was free I said right in his ear (with all the kindness I could muster up): "Excuse me sir but I believe I was next." Well that set ole Charlie off and he went on his own rant in his loud, nasty, old man manner, "Well you don't have to yell at me! How am I supposed to know you're next? I saw you standing there. But how am I supposed to know what the heck you're doing over there?"  I took a deep breath, order my food, TO GO and went on my way. When I finally got home I slept 12 hours straight.
Well, this has not been much of rant but more like a tribute to my mother who was, and always will be, the greatest influence in my life.