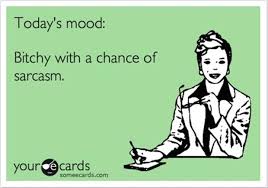 People either love me or hate me. There's no gray area. I'm from the northeast, I say it like it is, and I think my sarcasm is funny. But some folks thinks it rude or obnoxious. Like the dentist that kicked me outta his chair when I said: "You wanna introduce yourself to me before you stick your hands in my mouth?" Or the telemarketer that called me back to tell me she would pray for me. Now that's funny – she actually got me off a ladder – twice! Two of my favorite people are Joe Pesce and George Carlin (go figure) and I guess people either love or hate them too. But if either of those guys made that same statement to the dentist he would've laughed at them – right? And the telemarketer? Well… I have nothing nice to say about telemarketers. They lie. Do you love when they act like they know you? "Hi Fran, it's Jerry calling to alert you about your utility bill going up." Or when they try to make small talk when you're juggling umpteen things at once. On those days I keep a police whistle close by. When I have time, I answer very excitedly: "Yes, this is the owner of the business.  I've been waiting for your call! What can I buy from you today?" I hate the robotic telemarketers — the Siri of telemarketing. I ask: "Is this a machine?" Short pause while Siri searches for the correct answer. "No I am a real person." Stop lying to me!!!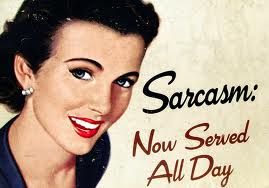 At work, I love greeting all my customers and making quick small talk with many happy people. I met a guy at the Sugar Sand Festival on Clearwater Beach and his nickname was Mookie. He took pictures of our banners and said he was going to tell his friends he wasn't going back to the frozen northeast and decided to start a business in Clearwater. So I armed him with business cards and brochures to back his story. That was a good day. But some days people walk up to our tent because they smell the popcorn cooking, hear the bowls clanging, see our cook stirring a big, hot kettle with popcorn flying out of it and they actually ask me: "Was this made today?" You'd be shocked at how many time this happens and how many responses we've come up with.
1. Yes it was.
2. No, it was made on Tuesday.  I just keep this crew around for the sound effects.
3. Are you kidding me?!? No popcorn for you! NEXT.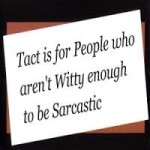 Now, the first response would be the most tactful but tact is not one of my strong points. In fact, my mother always asked me; "Why can't you be more tactful?" Well, growing up in an Italian household in Philadelphia, where any of my uncles could've been Joe Pesce, I learned sarcasm because no one ever taught me tact. Everyone I knew was sarcastic (except my mother). My dad, my uncles, my friends, even the nuns! Yes, I went to 12 years of Catholic school. That explains a lot.
School sarcasm
Are you going to join us Miss Sindoni? Or are you just going to stand there holding that wall up?
Breakfast sarcasm
"Dad, how's the coffee?"
"It's hotel coffee."
I grew up thinking hotels had the worse coffee in the world then I stayed at a fine hotel and had an incredible cup of coffee and I realized the state of denial my dad lived in about his coffee which was best described as hot mud.
Sarcasm at the Jersey Shore
"You been swimming?"
"No, I just strolled over from Europe."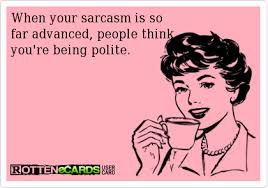 Sometimes, when I fake a real sweet voice, people DO think I'm being polite. "No. That popcorn was made on Tuesday but try this bag — it's nice and hot."
When I feel my blood pressure boil when a telemarketing calls, I realize that being tactful or polite might be more healthy than being sarcastic. But could I possibly change at this late stage of the game? Many people think I'm rude and perhaps I am. Polite people don't blurt out anything that comes to mind – they use a filter. My filter must be clogged.
To my friends, my customers, my employees and even my doctors, I say: "I'm Sicilian, I'm from the Northeast, and I'm sarcastic. I am who I am so deal with it – or not." We can't expect to like everyone we meet. That's why there's so many of us. I found another dentist that appreciates my humor and I'm always meeting new people to be my friends, customers and employees.
In any event, if you ask if my hot popcorn was made today — expect something sarcastic in return. OR you can avoid all sarcasm and order our Kettle O Korn online. It's only $20 with free shipping all summer long. And YES, it was made today!